Hello Fellow Sportsmen & Sportswomen,
Welcome to the DaHunt for the Cure website! DaHunt for the Cure supports The Children's Hospital at Montefiore's survivorship program.
DaHunt for the Cure began in 2008 by Charles and Diane Medici, who decided to host a unique event: a two-day upland bird hunt to raise money for one of their favorite charities. The idea was an immediate success! People were drawn to the combination of the great outdoors, a little friendly competition, camaraderie with fellow business professionals, and help children with their illnesses. More importantly, the event will raise money for research and help find cures, inspiring them to turn their simple idea into an on going fund raising effort.
The inspiration for DaHunt for the Cure was born from the personal way blood cancer has touched my life since my nephew, Peter, was diagnosed with leukemia. We personally invite you to participate in this event, in Peter's honor and in support of all those that are still fighting today! Peter is now an extremely healthy college graduate in his early 20s. He works as a project manager for his family owned company, JDP Mechanical, and is still involved with the Children's Hospital at Montefiore.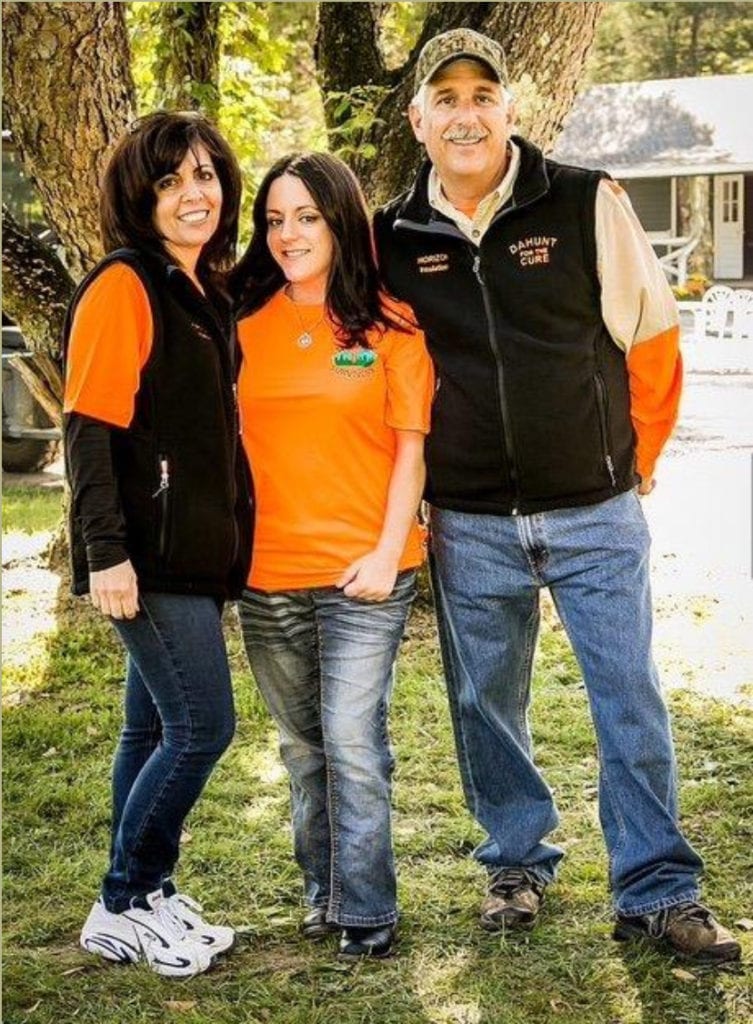 Our Da Hunt Family
PLEASE JOIN US AT OUR NINTH ANNUAL SPORTING CLAY CHARITY EVENT CLICK HERE TO REGISTER OR TO MAKE AN INDIVIDUAL ONLINE DONATION. PROCEEDS WILL SUPPORT THE REACT SURVIVORSHIP PROGRAM OF THE CHILDREN'S HOSPITAL AT MONTEFIORE.
OPPORTUNITIES ARE AVAILABLE FOR:
Individual Registration
Team Registration
Sponsorships
Individual Donations
Raffle prize donations are also welcomed! Donations may include, but are not limited to, the following:
Sporting Event Tickets (e.g., Baseball, Basketball, Football, Ice Hockey, etc.)
Sporting Goods Store Gift Cards (e.g., Dick's Sporting Goods, Eastern Mountain Sports, Paragon Sports, etc.)
American Express® and/or Visa® Gift Cards
Fine Dining Restaurant Gift Certificates
The Children's Hospital at Montefiore
REACT Program Mission Statement
CHAM's Reassessment and Evaluation After Cancer Treatment (REACT) Clinic is a specialized program developed to improve the long-term outcomes of children affected by cancer. As the number of survivors of childhood cancer increases, it is essential to provide these patients with the care they deserve to live long, happy, and healthy lives. The goal of REACT is to maximize the quality of life of childhood cancer survivors and their families by providing outstanding long-term medical and psychological screening and treatment, patient education, and survivorship support programs. For more information about the REACT Program, please visit Montefiore.org/React.
Please join DaHunt for the Cure in helping the REACT Program support patients and their families as they begin their life after cancer. Such REACT programs include the following:
REACT Workshop Series:
Present a forum in which to tackle relevant issues such as educational attainment, career planning, and post-treatment health risks.
Neuropsychological Evaluations:
Offer patients research-based disease and treatment-specific neuropsychological evaluations as well as the appropriate recommendations to maximize the patients' ability to function within their respective settings.
School Entry:
Assist patients and their families navigate the educational system and assist parents in advocating for their child's needs.
Fertility Financial Assistance Program:
Provide the financial means to preserve the patients' fertility by sperm banking or ovarian preservation.
Career Development Program:
Assess patients' job readiness, provide guidance on career options, assist with employment searches, and offer training on resume development and interviewing.
Thanks for your help with this worthwhile cause.
Charlie Medici, Founder
DaHunt for the Cure
---